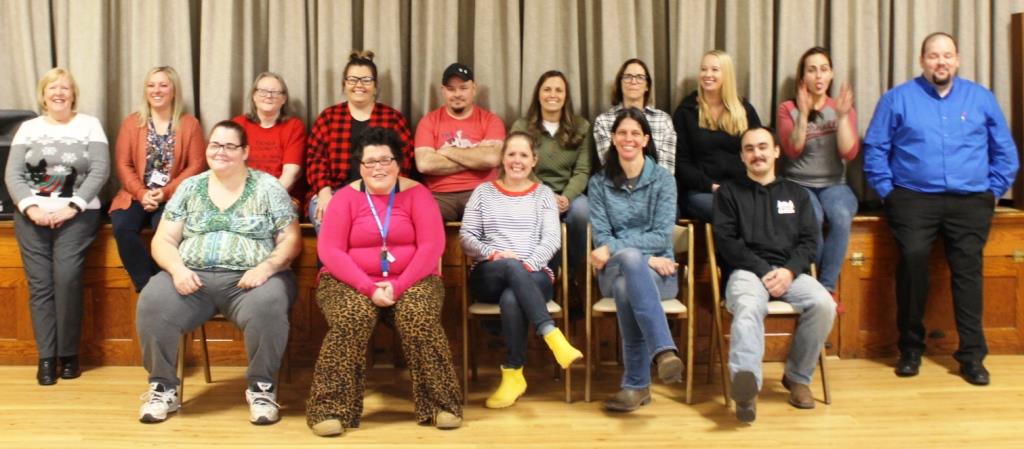 2022-2023 Policy Council Members
From left to right:
Back Row: Lillian Burnett, Crystal Barnard, Lorrie McCullen, Mercedes Meuse, Jason Gowin, Rebekah Grubb, Alice Maciuski, Katie Kshir, Nicole Chandler, Theo Deitman
Front Row: Angela Manookian, Felicia Myers, Kelly King, Robin Kingsley, Chris Walters

Missing: John Coole, Kayla McCarty, Daniel Gansel, Amanda Braley, Kori Hopf, Kyle Taymond, Shawna Cook, Shania Walker
What is Policy Council?
Policy Council is the governing body that oversees our Head Start and Early Head Start programs. It meets monthly from 10AM to noon usually on the third Tuesday morning of the month. One Head Start staff person from each center comes to the meeting and brings parents representatives who need a ride. Family Partners will also transport.

Each Center Parent Committee elects a Policy Council representative. There are also two representatives from each county elected by Early Head Start parents. These must be parents or legal guardians of currently enrolled children. There are also community representatives on Policy Council. They are usually from agencies located throughout Bradford and Tioga Counties. Each parent and community representative has a vote. Staff members attend Policy Council meetings to give information. They do not vote.

Policy Council's job is to give input in many program decisions, including policies, budget issues, program evaluation and personnel. Members serve on one of four committees which meet in a location convenient to committee members. The committees learn about finance, personnel, policies and procedures or work on special projects that arise. They work closely with the Head Start Administrative staff. They make recommendations to Policy Council about actions to be voted on.

Policy Council membership year runs October through the following October. In October of each year, we have a recognition celebration for outgoing members and we welcome new members. A member is allowed to serve on Policy Council for no more than three years.

Parent representatives to Policy Council do the following:

1. Attend meetings each month, October through May.
2. Prepare a brief monthly Center Parent Committee report for Policy Council (your Family Advocate can help with this). Family Partner's also can help Early Head Start representatives to prepare a report on family play group experiences.
3. Help staff interview candidates for staff positions if asked and available.
4.Participate in occasional committee meetings.
5. Help with the program's annual self evaluation.

Experience is not necessary! You will be working closely with staff along the way, and its a great way to meet parents from other centers.