Bradford-Tioga Head Start, Inc Participates in Athens School District Spirit Week
---
Athens Area School District recently held their Spirit Week, September 16th through the 20th. Spirit Week is a week in the school calendar, usually leading up to the homecoming football game. It is an opportunity to promote community and school spirit and a great way to bring a school community together! Plus it can be a lot of fun for students and teachers alike.

The East Smithfield classes of Bradford-Tioga Head Start, Inc., housed in the SRU Elementary building, were invited to participate. Each day of the week teachers and children were asked to wear different clothing to show support. On Monday, everyone wore their favorite team clothing; Tuesday was "red, white and blue" day. On Wednesday everyone sported their crazy socks and on Thursday each class was invited to wear a specific color. For the East Smithfield Head Start children and staff, this meant modeling their tie-dye! Friday was black and silver day which just so happens to be the colors of the district!

There's nothing quite like a school spirit day to boost excitement and encourage unity among students and faculty. It's a great way to bring all ages together and promotes the idea that crazy and whacky can be cool.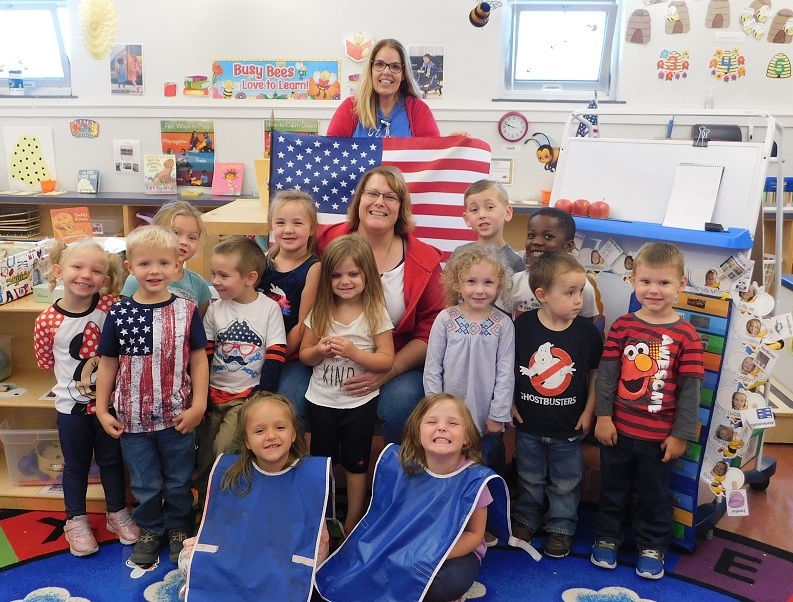 East Smithfield 1 Teacher Mrs. Adams, East Smithfield 2 Teacher Aide Miss Stacy, and all the East Smithfield 1 students pose for their picture on during Spirit Week at SRU Elementary school. They can be seen sporting their "red, white and blue" on Tuesday.